Firms doing lead nurturing correctly create 50% more sales-ready leads at a 33% lower cost.
As in any walk of life, trust is the bedrock of a strong relationship. Potential clients and customers need to feel comfortable with you and your team before they will step out and commit to a purchase or partnership.
That's just the start and from there you're swimming against the current. According to Gleanster, only a quarter of your leads are sales-ready, while half are:
qualified but not ready to buy from you.
It goes without saying that potential sales relationships require a great deal of nurturing, time and care.
This article will help you to decide which methods you need to employ and how to implement them to successfully nurture a business lead. Read on to find out about:
Tracking prospects
Email techniques
Nurturing leads across channels
Touch frequency points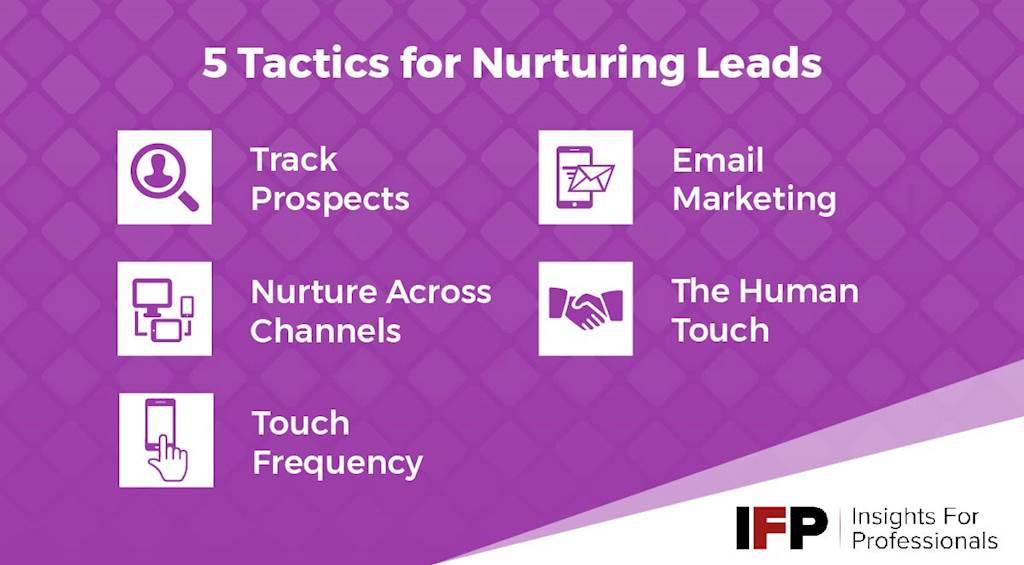 Tracking prospects
Using CRM (customer relationship management) software, you can consolidate prospect information and documentation into one database so that your team members are always within reach of all contacts and followers across all the business platforms.
CRM software can help with recording dialogues with prospects and customers (tracking mail, phone calls and other digital interactions), while an array of automation tools can carry out repeatable tasks to facilitate workflow and free up team members' workloads. The software also enables managers to stay on top of team performance and productivity.
Goal-setting can facilitate lead conversions, while the close recording of metrics will ensure each member of the team remains accountable for their workload.
Metrics are also available to monitor quality. A visit-to-lead percentage will gauge how effective your marketing team has been with its calls-to-actions and special offers. This measure can help identify and iron out wrinkles in your marketing plan, while offering an assessment of the quality your content.
A revenue pipeline forecasts the values of leads, and will help align marketing to sales quotas to ensure teams are collaboratively working towards a common goal.
Email techniques
Dump-emailing prospects with reams of ill-thought out information will have potential clients running in the opposite direction. Email is great for nurturing leads, but you have to take care in your approach. Consider the following factors before you start placing your brand in the inboxes of your valuable leads.
Email format
According to a 2014 survey of over a thousand professionals, 64% of marketers said they preferred HTML over text-based emails. HTML emails are results-trackable and accommodate colors and graphics. On the other hand, some clients are unable to receive HTMLs, meaning your message may lose impact, making you appear unprofessional. Furthermore, while people may say they prefer HTML, the inclusion of images actually reduces click-through rate.
Plain text emails feel more personalized, giving full control over what is seen. However, they do not allow for graphics, colors or tracking results. Most email marketing services will allow you to make plain text versions of emails, so a mixture of both formats is possible.
Drip-feed campaigns
These build the prospect relationship over time with emails that lead or build to the same message while offering insight and valuable information that is unique to each post. Often these are best employed as a series of emails that develop your brand's promotions over time.
Inform and investigate
Hubspot recommends lead intelligence to convey your value while telling prospects what they need to know. Also, emails are a great way to give free content that educates prospects. Stay concerned about sticking points and how these can be ironed out; addressing problems should take priority over pushing for more sales.
Social hubs
When you make contact over email, suggest more ways you can connect with a prospect. For this, your other platforms have to be in order, such as YouTube, Twitter, Facebook or LinkedIn. The more a lead connects with you, the stronger your partnership can become and the more opportunities you will have to nurture the relationship into something mutually beneficial.
Include social media handles in emails; people are busy, and probably not actively searching out your business, so it is your job to make sure they see these things. Ecommerce firms are 71% more likely to be bought from, if prospects are referred through social media.
Nurturing across channels
Your website may be the first point of contact between your and someone who is interested in your business, so it is important that it clearly represents what you are selling. Marketo.com states that three important options on your website are:
Strategic landing page: these will rely heavily on key words and user-intent combinations.
Blog: visitors need to know you have your finger on the industry pulse, and a blog is the perfect way to achieve this. A comprehensive history of thought-provoking, probing blogs will keep your site fresh while establishing your firm as aware, news-hungry and forward-thinking.
A resource center: Working in a similar way to the blog, a resource center should compile all your content across all topics, while organizing information into a great user experience.
Touch frequency
How often you contact leads can make or break a relationship. Your time should vary depending on whether the lead is cold (one you have to nurture back into interest) or new.
Mathew Sweezey, the author of Marketing Automation for Dummies, states that new leads call require a:
minimum of a 6-day pause between emails and a maximum of a 45-day pause. Six days means that you will not run the risk of emailing someone twice in one week, and 45 days gives you a touch once every month and a half.
It is important you stay ahead of your leads, as most will not be interested in a sale when you contact them, but will come to you if you make sure it is your business at the front of people's minds.
The human touch
It's no secret that the best relationships are built in the real world. A physical office space or store helps you to meet clients, and shows them who you are in a far more genuine way than a sales pitch could ever achieve.
Dotmailer's Ross Barnard rightly extols the virtues of live events, which 75% of digital marketers claim to be the most effective marketing tool. Expositions, conferences and networking are fantastic for getting relationships and leads started on a face-to-face foundation; they allow you to show your best face to prospects while making your USPs stand out on a landscape of competitors.
With all leads, and especially those that have gone cold, ensure you vary your touches. This personalizes your dialogue, and gives you a feel for the individual behind your lead, both of which contribute to a better understanding of one another.
Since all leads are different, it is important you have a flexible set of options to employ in order to nurture them. If you make sure you, or your team, put in the research and implement the right strategy for the lead, you will greatly increase your chances of reaching a sale.
Access the latest business knowledge in Marketing
Get Access
Comments
Join the conversation...