There used to be a time when automation was an option reserved for brands with more resources. But with the developments in AI technologies translating to more and better automation tools, 2019 is no longer that time.
To get a leg up in this highly competitive content marketing world, here are 5 content marketing tasks you need to be automating in 2019.
1. Email marketing
Fancy features from different social platforms may come and go, but email marketing remains the most effective communication channel out there. But while it's a great tool for lead generation and ushering prospects through the sales funnel, a lot of companies are still spending far too much time in producing emails.
According to one report, 68% of companies take at least one week to produce a single email. That's a lot of time you could've been spending on other important tasks, and is particularly outrageous with the amount of automation tools at your disposal.
Here are a couple of them:
Buzzbuilder Pro: Your list building assistant
This tool helps expedite the list building process by helping you create personalized cold emails. It even integrates with your LinkedIn account, allowing you to send automated follow-up emails. For $250+ a month, it also comes with a web form builder, hot lead alerts, and features to help your social media strategy.
Mailchimp: Topnotch automation
Mailchimp is largely considered one of the best email automation tools in the market. Its slew of features include:
Storing thousands of contacts at a time
Segmentation
A/B Testing
Saving campaigns for future re-use
Send time scheduling
From automated welcome emails for new subscribers, to abandoned cart follow-ups, Mailchimp is a bargain for a free tool (with paid versions that start at just $10 a month) that helps you get noticed in your customer's inbox.
Source: CMI
2. Social media
In 2019, there's just no reason to manually manage all your social channels. There's an abundance of tools that can help you with tasks like bulk-uploading content, scheduled posting on multiple platforms, and social listening, among others – all while enabling you to track the performance of your campaigns.
Source: Jeff Bullas
Automating your social media promotions allows you to focus on what matters most in content marketing: producing quality content.
3. Workflow automation: IFTT
IFTTT (If This Then That) is a free tool that allows all your apps and devices to communicate with each other based on triggers you set. And when it comes to content marketing, IFTTT is a must for anyone looking to automate their content workflow.
For example, if you want to consistently share industry-related news from a particular medium, IFTTT can automate its posting on a platform of your choice.
And while it can do an infinite number of things (like turn on your porch lights when the pizza delivery guy is on the way), here are some of the other things you can do for your content workflow:
Sync WordPress site to your social channels so new blog posts will be automatically shared.
Sync Instagram with Pinterest so every photo posted on IG will be shared to specific Pinterest boards.
Sync YouTube with other social channels so new uploads with be automatically posted on other platforms.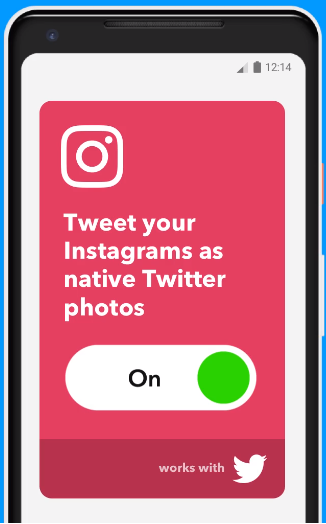 The possibilities are endless, it's up to you to find a creative way to make your life easier.
4. Finding your influencer
As influencer marketing continues to thrive in 2019, it's also become saturated with individuals claiming to be "influencers." To make sure you are able to get results, use tools like Influence.co to carefully examine which influencer not only suits your brand messaging, but are also capable of reaching your objectives. This tool is akin to LinkedIn for influencers and social media experts – allowing you to discover influencers, collaborate with them, and track the content they produce.
Speaking of tracking influencers, Social Blade allows you to see an influencer's growth trajectory. This means you can spot fake accounts based on sudden spikes and steep drops (authentic accounts have steadier growth curves) in things like number of followers.
5. SEO
With Google regularly tinkering with their search ranking algorithm, automating SEO has become a must. And one of the most powerful tools in the market is Ahrefs. Among its plethora of features include:
Alerts for keyword mentions
Backlink analysis
Keyword research
SEO site auditing
Rank tracking
Ahrefs is basically an all-around SEO tool to grow your search traffic, analyze your competitors and monitor your niche. For example, it can help you with content gap analysis, where you can find high-volume, low-difficulty keywords your competitors are ranking for, while you're not.
To do this, all you need to do is plug your URL into its Site explorer tool, click "content gap," and type at least one competitor's URL.
Takeaway
While content marketing remains one of the more tedious elements of marketing, it's still one of its more important aspects. This means that whenever you can, you should be automating content-related tasks. From content ideation and creation, to email list segmentation and personalization, there are a number of cost-effective tools available that'll help you streamline your content marketing. Automation allows you to focus on crafting effective strategies and focus on what matters most – your customers.
Access the latest business knowledge in Marketing
Get Access
Comments
Join the conversation...