A company's most valuable resource is its people, so it's important to invest in technologies and processes that can help you deliver the best possible experience for your employees.
This is significant for employees of varying tenures, but it can be even more critical during the onboarding process, and can set the tone for the employer-employee relationship going forward.
People who don't have a positive onboarding experience are twice as likely to seek a different opportunity in the near future, according to research by Digitate. The average employer in the US spends approximately $4,000 and 24 days on each new hire, so this is a major concern.
With that in mind, here are five technologies that can help you get new hires off to the best possible start:
1. Checklists
Checklists might seem rudimentary, but they can be effective for a straightforward onboarding approach. They can also help you retain full control over the process, rather than relying entirely on technology, software and automated systems.
An organized checklist can be a useful tool for making sure essential tasks are completed during the onboarding process, such as introducing the new recruit to core team members and completing important HR documentation.
This is a method that can offer benefits if you're a smaller enterprise or have a limited budget. Fortunately, there are also many free technologies available to help you maximize financial efficiency.
2. Free solutions
The wide range of free tech solutions available is one of the biggest business benefits to come out of the digital revolution that has recently transformed the corporate landscape.
You can now freely access everything from video conference calling to cloud storage. While the free versions of business software packages will have less functionality than their paid counterparts, they can be for managing key parts of your day-to-day operations.
Where onboarding is concerned, free 'to-do list' software and project management tools can help you organize the process in stages and ensure nothing is missed.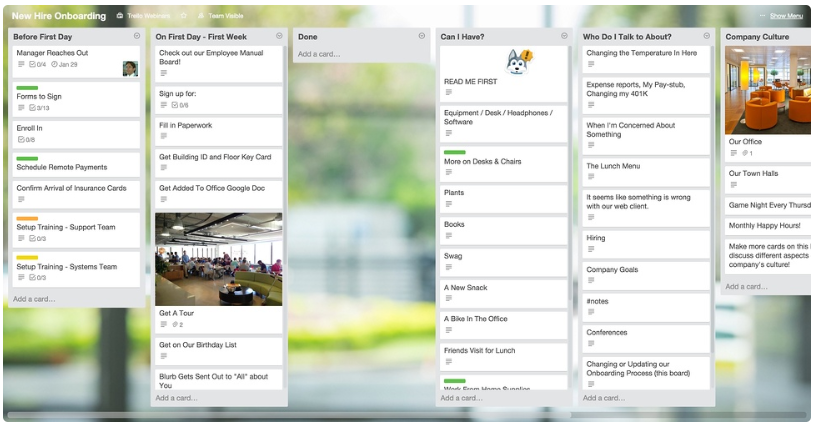 Source: Trello
3. Specialist software
If you have the financial resources available, it's worth considering investing in software designed to optimize onboarding.
With these dedicated tools on your side, you can help new arrivals feel comfortable and confident from the moment they arrive, so they're able to do their best work.
Specialist software can also help you to save money and drive efficiency by automating the onboarding process, reducing your time commitments and freeing up HR staff to focus on other tasks.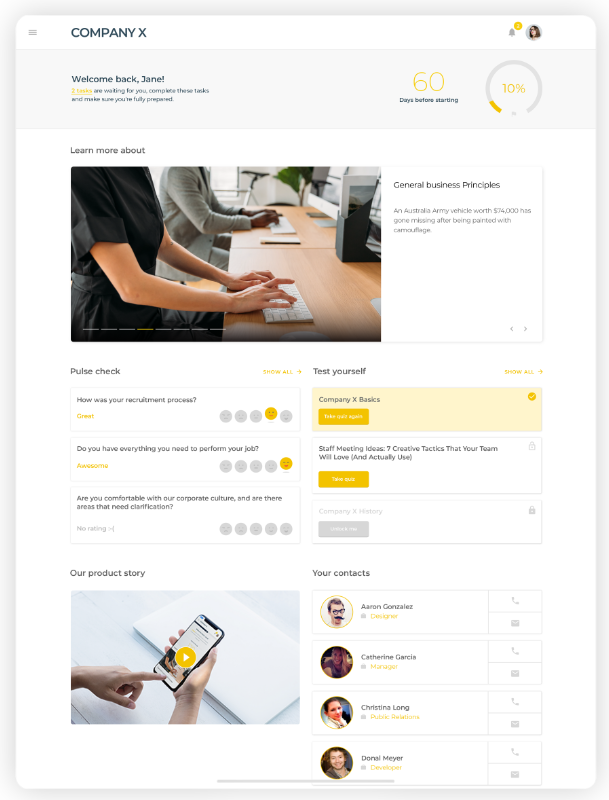 Source: Talmundo
4. Good intranet
Although frequently overlooked, a well-designed, regularly-updated intranet can be a valuable onboarding tool.
If new recruits are able to self-serve and find the information they need on the intranet, it can help them find their feet and gain familiarity with the business independently, rather than having to rely on others to tell them everything.
Furthermore, your intranet can also provide answers to questions new employees may not feel comfortable asking their manager right away, such as how they call in sick or request time off.
5. Digital training platforms
Opportunities for progression and professional development are hugely important to ambitious workers who want to feel their career - and the company they're working for - is moving forward.
Digital training platforms can be a critical part of effective onboarding, since they show new employees that learning and acquiring skills can be a central part of their role.
Furthermore, with skills shortages representing a major concern in many economies and industries, some businesses are choosing to hire people based on the strength of their core attributes and potential to learn the expertise required for key roles.
If this is the case for your business, sophisticated digital training software can help you get staff development programs underway as quickly and effectively as possible.
Access the latest business knowledge in HR
Get Access
Comments
Join the conversation...