It's an employer's duty to ensure their staff are happy with their working environment. This is beneficial from a business point of view because it keeps morale and productivity high and will help keep employees from leaving.
Despite the importance of taking care of morale in the workplace, research conducted by office suppliers Viking reveals that a number of employees aren't happy with their working environment. The research also gives insight into the reasons behind unhappy employees and what employers can be doing to improve their employee's wellbeing.
If you're looking to improve morale in the office, this article will talk you through what 14,000 workers said was wrong with their working environment, and what you can do to ensure your staff don't feel the same way.
1. Take mental health seriously
Although awareness of mental health issues is increasing, Viking's research shows that work is causing people's mental health to suffer, and there is a lack of support from managers and employer's with regards to this issue. As many as six in ten workers said they have negative thoughts about their job on at least a weekly basis, and 65% of managers said they have been approached concerning mental health issues.
It's not surprising work is becoming a big cause of stress amongst employees though, with half of those surveyed saying they regularly work over contracted hours, whilst 43% admitted they feel unpleasant levels of pressure to succeed at least once a week. It's clear that being overworked is causing mental health issues amongst employees, and with over two-thirds of managers revealing that they've had no mental health training, there is no support for employees who may need it.
If you want to help improve employee wellbeing, try and reduce the mental strain on them by reducing their workload, allowing them to leave on time, and giving managers the necessary training (or appointing mental health champions) to support employees who come forward with mental health issues. Showing employees that you value their mental health will also increase morale and reflect positively on your business.
2. Offer employees flexible working hours
We all live very different lives when we step away from the office, so allowing employees some flexibility to balance their work and personal lives will help improve their wellbeing. Viking's research reveals the ideal working day as 8am to 6pm, and half of those surveyed said they would prefer to work longer hours but have a four-day week. Also, given the choice, 60% would like to spend some of their week working from home.
In terms of their time in work, the research shows a one-hour lunch break to be the most popular. This isn't always achievable, however, as two-thirds of workers work through their lunch break at least once a week.
Accommodating everyone would be a tricky task for any employer, so offering some flexibility for people to shape their own working day would help increase office wellbeing. Give people enough time to take a lunch break as it's an important part of their day and set out a fair system that allows employees some freedom to choose when they work.
3. Look after employee physical health
For many people, going to work means spending a large portion of their day glued to their desk. In fact, 55% of workers said they spend over five hours a day at a desk every day. Eight in ten say they're worried about the effects sitting at their desk all day will have on their health.
Spending long periods of time at a desk is inevitable when working in an office, but the concern seems to come from the lack of support from employers. A third say their employees aren't doing enough to help their health, and 43% don't feel informed about how to protect their health at their desk. So, what can you do to make sure your employees don't have a similar attitude?
Stuart Hearn, CEO at Clear Review, cites:
A study published in the Annals of Internal Medicine…found that employees should get up once every half an hour to stretch their legs.
Offering this opportunity to employees, as well as guidance on how to maintain a healthy posture at your desk, is a good way to show the kind of support employees are looking for from their employers. You could also include a company perk of financial support when it comes to eye-testing, to combat the negative health effects of staring at a computer screen all day.
4. Provide the best working environment
Most people spend the majority of their waking hours at work, so it comes as no surprise that providing a nice environment for employees to work in will improve their wellbeing, morale and productivity. Despite this, the survey finds that many people are unhappy with their working environment.
When asked what annoyed them at work, 28% said colleagues being regularly late, 28% said hearing people complain all the time and 24% said eating smelly food. There are certain things you could try in order to avoid these, and it would be important to do so as four in ten people said they have considered leaving their job because of annoyances such as these. Introduce a clear timing policy so everyone arrives on time. Make sure there is a canteen for people to eat their lunch or remind people to be considerate about lunch choices to avoid any conflict over food.
There are also things you can do to the office to help improve employee wellbeing. Results from the survey show art would make a valuable difference. 54% of people think art should be in every workplace, half think it would reduce stress and 53% said art would make them happier. But don't just throw art in randomly, giving employees some say in how they would like to decorate the office will help keep your staff happy.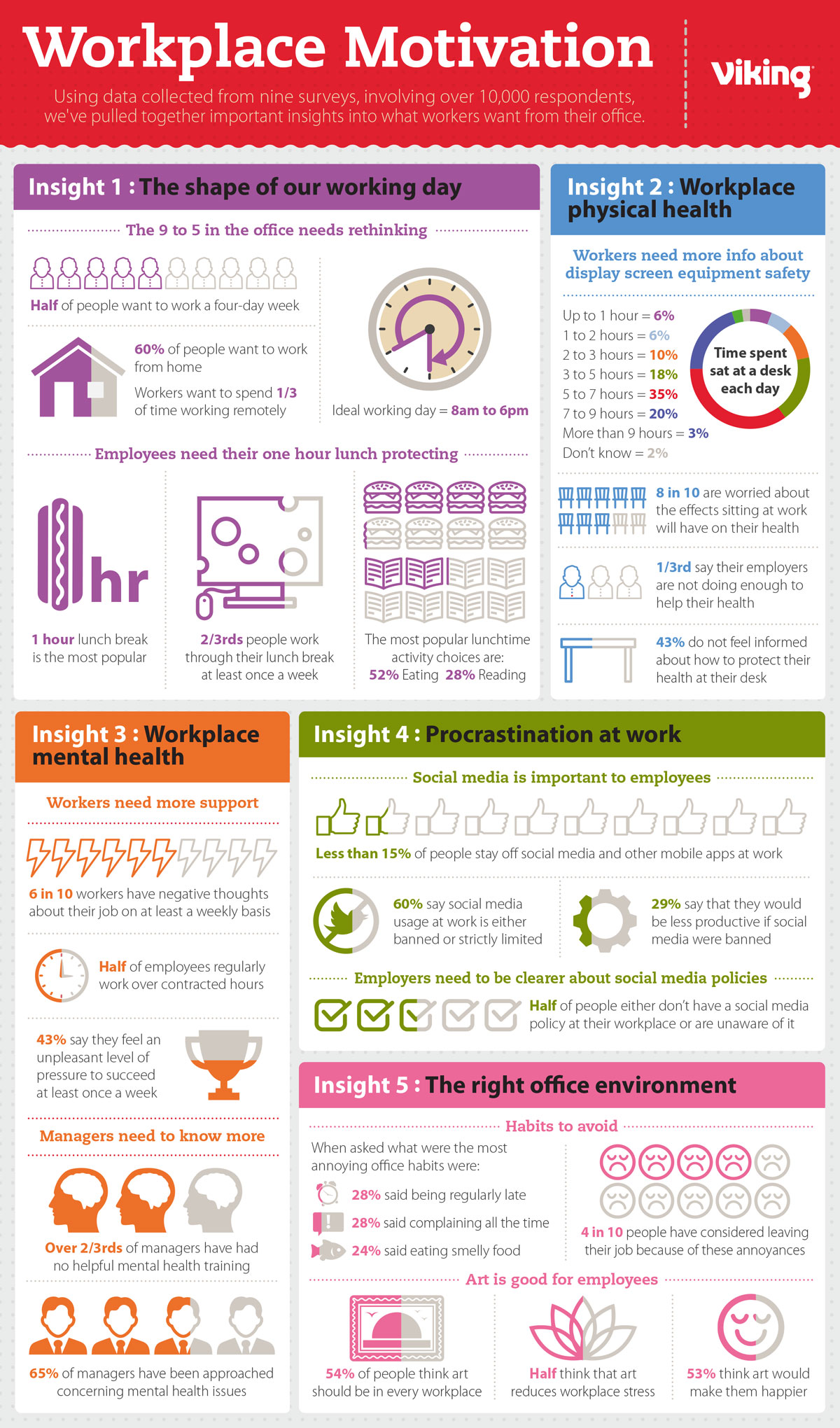 Taking care of employee wellbeing doesn't have to come at any cost – it's very easy to show them they're valued and to help improve health and happiness in the office. Making these changes can only have positive effects on a business as well; staff retention and productivity will inevitably increase and, in turn, the success of your business will do even more to improving wellbeing.
Access the latest business knowledge in HR
Get Access
Comments
Join the conversation...