It seems that today's workplace is even more prone to discord than ever before, in light of research conducted by the Chartered Institute of Personnel Development (CIPD) which finds that workplace conflict has increased since the recession.
The study put organizations from both the public and private sector under the microscope, and found that 50% of public sector respondents had encountered a rise in the use of disciplinary actions, while 54.7% of respondents from the public sector reported greater use of grievance procedures, in comparison to a survey average of 41.3%.
As long as cooperation is the primary outcome, conflict can be used as a productive, positive energy. Unfortunately, for the large part, conflict is usually understood as a behavior that impacts negatively on staff and a department's productivity.
A further study conducted by YouGov on behalf of the CIPD, surveyed over 350,000 individuals as a representation of the UK workforce. Most respondents (61%) cited a lack of respect as their source of conflict over the previous year, whereas 3% reported physical threat, or physical abuse (1%).
In 40% of cases, those involved said that the conflict had led to a drop in motivation or commitment, illustrating that even harder-to-detect instances of conflict can, nevertheless, be very damaging on a team or business.
Read on to find out about:
The cost of workplace conflict
Key causes of workplace conflict
Different ways to deal with conflict
The cost of workplace conflict
Far more than hot air and bad feeling, conflict is actually a full-blown menace that is devouring our resources and restricting business growth, both in Europe and overseas.
A study published by CPP Global found that employees in the US spent 2.1 hours each dealing with conflict, equating to around $359 billion in paid hours (calculated from an average hourly wage of $17.95). Across the country and the industry as a whole, the time adds up to 385 million working days wasted.
For the UK, the situation is no less grave. According to the CBI (Confederation of British Industry), conflict in the workplace costs UK businesses £33 billion per year, taking up 20% of leadership time and potentially losing up to 370 million working days.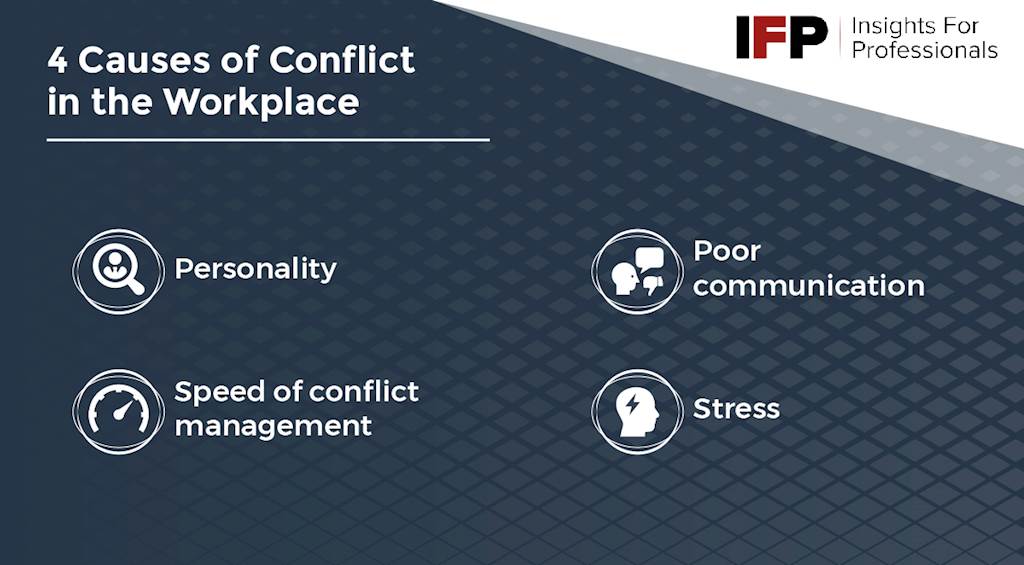 Four causes of workplace conflict and how to deal with them
1. Personality
According to the CPP report:
Half of employees surveyed (49%) feel personality clashes and ego confrontations constitute the main cause of workplace conflict.
Leadership, or lack of it, is also seen as a significant element in generating conflict at work.
Three in ten employees (29%) see conflict arise from poor leadership at the top of the organization, with around a quarter (23%) saying that poor line-management is to blame.
Similarly, a CIPD study into the concerns of HR practitioners, found personality clashes, mentioned by 44% of respondents, as being the main reason behind interpersonal strain, while poor leadership was cited by 30% of respondents.
Richard Thompson, director of research for CPP, asserts that similar personality traits between individuals can actually be problematic, as opposed to facilitating good relationships. Thompson's recommendation is to strive for a personality balance in workforces, and turning to training to help managers and other employees deal with conflict successfully.
Terry Sember, author of Bad Apples: How to Manage Difficult Employees, Encourage Good Ones to Stay and Boost Productivity, looks back to the hiring process for answers. He suggests asking interviewees directly about why they left their last job, why they left the job before that, and to comment on their relationships with former colleagues.
From the CPP study, 54% of workers surveyed said that managers had to take the lead on conflict management, through knowing their team's personalities well so that they can stay alert to potential traits that could turn into flashpoints for conflict.
2. Poor communication
Differences in communication styles, or simply a failure to communicate at all can both cause conflict, as those involved work off assumptions instead of clear cut instructions.
From the CPP study, a third of Germans felt that insufficiently clear messages directly cause conflict while 36% of employees in France highlighted a lack of openness and honesty as a main cause of conflict. Both issues could be resolved with better communication.
Communication should be incorporated into staff training. Beyond acquiring new skills, individual staff members in attendance should receive a boost in confidence and morale to take back into the workplace.
Try to forge an open communication culture in the workplace by encouraging employees to talk about work issues, and provide an official forum for this to take place. Berkeley recommends regular meetings as a good way to enable staff to air how they feel about certain decisions and to forward their own ideas in a way that openly garners support from colleagues.
3. Speed of conflict management
Nipping problems in the bud is seen as crucial by HR practitioners who recognize that failure to deal with disputes – for whatever reason – can lead to issues escalating to the level of formal disciplinary or grievance procedure.
Research finds that 16% of employees surveyed had experienced a workplace conflict that had become more intense as a result of it not being resolved quickly. This suggests that managers are not addressing potential issues at the earliest opportunity, thereby contributing to a scenario that is bringing businesses to their knees.
The situation is echoed by a joint OPP/CIPD research report into employee attitudes and conflict, Fight, Flight or Face It: Celebrating the effective management of conflict at work, which finds "the second most commonly mentioned conflict zone is between line managers and their reports, cited as number one by a quarter (24%) of employees". Clearly, line managers play a key role in managing conflict successfully.
However, the responsibility of conflict management lies on the shoulders of the entire organization. Thus responded 62% of employees surveyed, when asked whom they felt had a role to play within the issue.
While there is no silver bullet, within the same survey, the simple act of conversation was deemed a major factor in finding resolution, with 42% favoring one-to-one conversation. More interestingly, 39% of employees surveyed saw it as the responsibility of the manager to model best practice behavior as an example to colleagues.
Supporting this research, Joan Kingsley, author of The Fear-Free Organisation, underlines the importance of being absolutely clear on behavioral policy, so that all employees are clear on expected standards of professional conduct.
"Conflict resolution conversations facilitated by a team leader will uncover problems and result in positive solutions. It is constructive to listen and acknowledge opposing ideas and points of view," Kingsley adds.
4. Stress
A more common source of workplace conflict than people may expect, stress is a key concern for Health Assured. The occupational health provider reports that nearly 86% of workers direct frustration and anger at co-workers regularly.
While CPP research found that 34% of workers surveyed said that stress as a main cause of conflict in the workplace, Health Assured found that 79% of employers confessed to finding it hard to deal with staff who can lose their temper.
Workplace stress impacts on employee welfare and can ultimately impact an overall department or even the business, as research shows clear links between stress and sickness absence. Managers need to focus on triggers and behaviors that signal an individual on course for becoming emotionally stretched. The next step is for managers to encourage staff to talk openly about stress and conflict, and the challenges and barriers that exist within teams and outside them.
Conclusion
Breakdowns between individuals is part and parcel of working life. It may sound clichéd, but each conflict really is an opportunity to make vast improvements.
By and large, conflict finds its roots in poor interpersonal relationships, whether they are between peers, or management figures and staff. This in turn can often be traced back to poor leadership at the top of the organization.
From a top-down perspective, instead of delegating responsibility to departments, managers need to tighten their game, acting as role models and behaving with demonstrated integrity. Only then can the basis for a harmonious working environment be established.
Insights for Professionals provide free access to the latest thought leadership from global brands. We deliver subscriber value by creating and gathering specialist content for senior professionals. To view more Management content, click here.