Consumers check their email at least once per day, with many checking it at various times and occasions. Adobe Consumer Email Survey Report 2017 findings say that people admit to checking their email while watching TV, being tucked up in bed, walking, commuting, being in the bathroom or even attending formal ceremonies!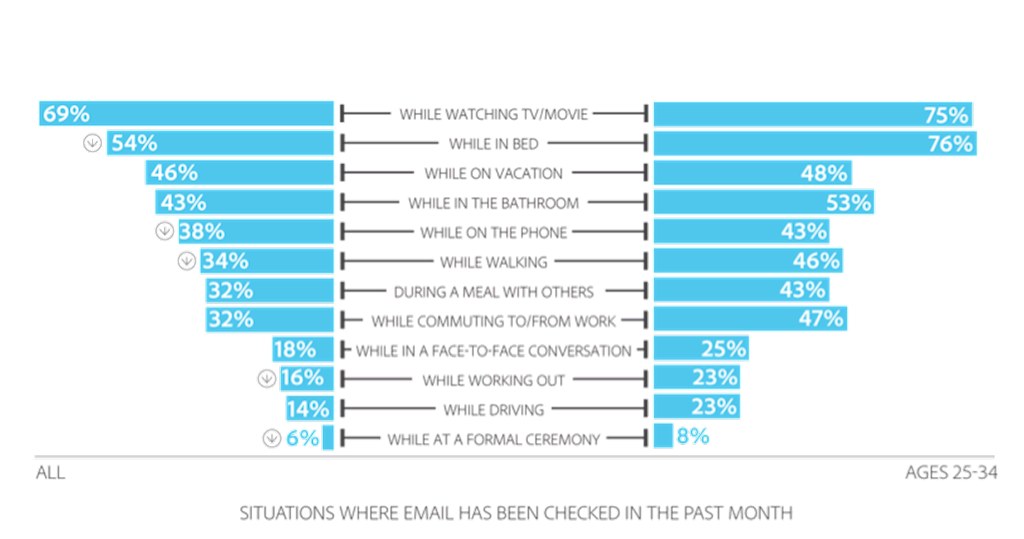 Image Source: Adobe
Consumers prefer to receive email communication from brands and this translates directly into their purchasing behavior. In Q1 of 2016, email marketing drove 18.4% of purchases, up from 15.5% during the same timeframe in 2015.
Don't miss out on the potential of email marketing and try these 5 tips to sell more with your email marketing campaigns.
1. Create a killer welcome email
Create a great-performing welcome email, a message which is being automatically triggered by the moment of sign up, and enhance your customer's experience right from the start of your relationship.
33% of subscribers get more engaged with the brand after being properly onboarded with a welcome email. And welcome emails have an average 58% open rate compared to a 15% open rate enjoyed by promotional emails.
Use this moment of high attention to introduce your brand and say thank you to a new member of your online community. Lush, an online retailer, follows this best practice and then straightaway jumps into offering some of their products. By doing so, they are increasing the chances of conversion. The reader of the message just joined their email list and completed one conversion goal. The sales element of the welcome email leverages this moment and encourages the reader's further movement along the conversion path.

Image: Lush Welcome Email
2. Use segmentation to target the right people
For email marketing to generate revenue, the content of sent messages has to be fitted to the needs of the individual preferences of subscribers. You can easily accomplish this through the segmentation strategy, which allows you to create sales offers that appeal to the particular interests of specific groups of customers.
Use of segmentation can grow your number of your transactions by 18%, because you target the right person at the right time with the right message. Segmentation is not reserved for big brands.
With a good email marketing platform you can easily divide your subscribers into groups using both declarative and behavioral data. For B2C online retailers this may include age, sex, geography and previous purchase history. For B2B companies, this may include the size of the company, the industry sector and previous website activity.
Look at this example from KISSmetrics. The email targets potential clients who visited their website with a free demo, giving them insight into what the business can offer.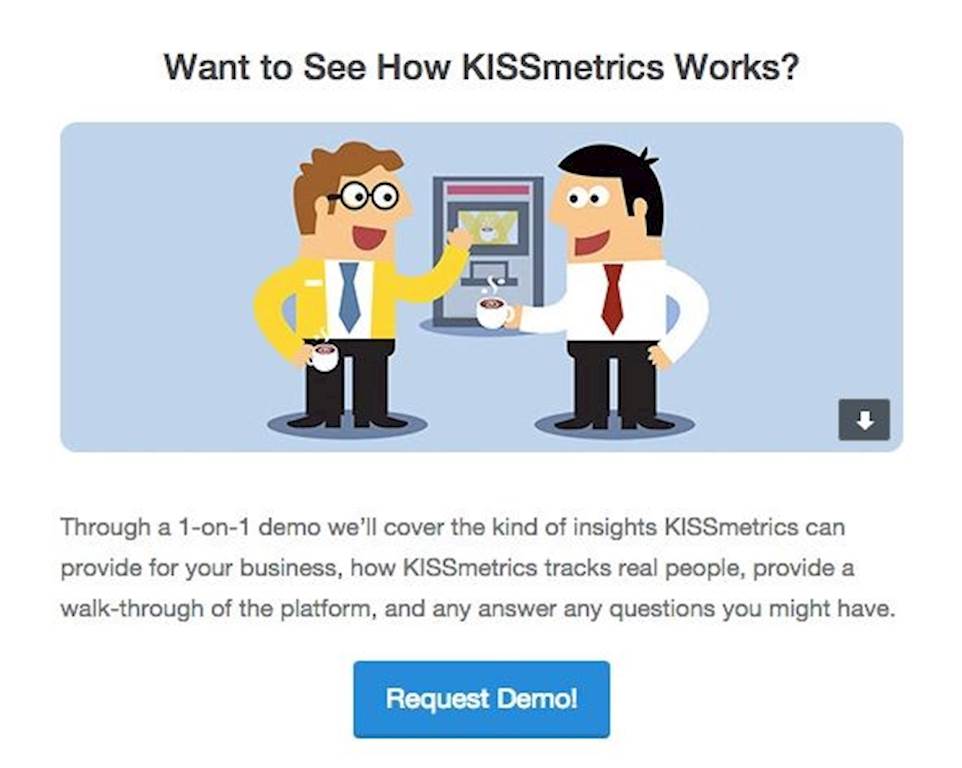 Image: KISSmetric email
3. Use A/B testing to get the best results
To find out what works best for your subscribers you have to test it first, there is no other way to predict the effectiveness of your email than to perform A/B tests.
Among many other testing options, testing the email subject line is crucial, because 47% of recipients say they make a decision to read an email based on the subject line alone. Barack Obama's team, during his election, took advantage of email A/B testing and examined 18 variations of subject lines before picking a winner. And the winning variation generated $2,540,866 in donations!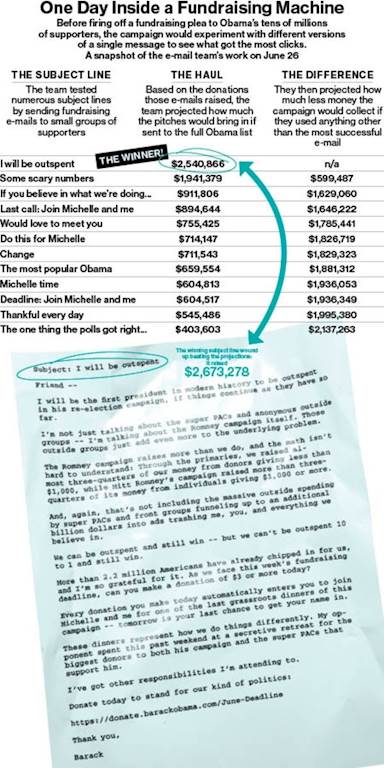 4. Leverage social proof
Most consumers (97%) say reviews influence their buying decisions. 58% of consumers use them frequently, 23% occasionally, and 16% always use customer reviews when making a purchase decision.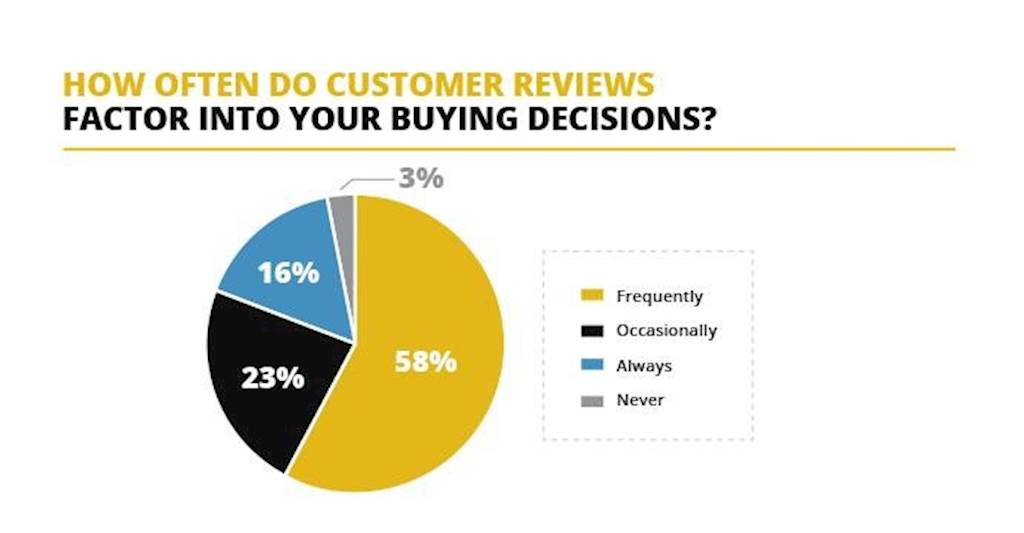 Image source: http://www.v12data.com
Convenience and trust are key driving forces when making a purchase decision. Use social proof in your promotional emails. The idea of social proof comes from Robert Cialdini's book "Influence" and is described as "the tendency to see an action as more appropriate when others are doing it." Your social proof can be your customer's reviews. This classic marketing trick will trigger subscribers to convert from your email and potentially check the product and then buy.
5. Go beyond the inbox
Mix your email marketing strategy with social advertising. Social media platforms are driving sales in mobile commerce. Your brand presence in these channels is crucial for building engaged and loyal communities.
Imagine that your customers have just purchased a product in your online store. What you could do next is to display them an Instagram ad a few minutes later with popular cross-sell products. If social media posts won't convert to an upsell, additionally send them an email with a discount on that specific cross-sell product.
Access the latest business knowledge in Marketing
Get Access
Comments
Join the conversation...