Let's take a close look at two lesser- known, but similarly lucrative, business models to consider when starting an online business.
1. The software model: SaaS
Software as a service, or SaaS as it has come to be known, is a way of delivering centrally hosted applications over the Internet. All of the heavy lifting, when it comes to processing, is done by the SaaS provider, not your device. Typically, customers pay a monthly, or yearly, "subscription" fee in exchange for use of the software.
With the SaaS model in place, Adobe customers no longer have to pay a steep one-time price of $2599 for Adobe Creative Suite. Individuals now pay a $49.99 monthly fee (if they commit to a one-year subscription) for Adobe Creative Cloud. It would take four years and four months at $49.99 per month to add up to the former one-off $2599 sticker price.
The SaaS model has many benefits for Adobe as well. Lowering the barrier to entry with the monthly subscription model has helped reduce the rampant piracy of Adobe Creative software. The commercial value of unlicensed software installations climbed to 31.7 billion dollars globally in 2015. It's also made it easier for Adobe to roll out updates and new features to customers as they become available, which in turn cuts down on customer service costs. Up-to-date software generally runs better and leads to fewer complaints.
Microsoft and Adobe are two of the biggest names in SaaS. It's a crowded playing field, with many small businesses seeking to stake a claim. But if you have a good idea, coupled with the ability and perseverance to build it out, opportunities will abound.
For example, the team at FE International just recently sold a portfolio of two productivity and organization apps — one business to business (B2B), one business to consumer (B2C) — launched in 2013, for 2.5 million dollars.
2. The content model: Affiliate marketing
Online business owners often refer to content as something that drives organic search traffic through Search Engine Optimization (SEO) — or as an integral part of any effective social media strategy. Content is both of those things — and more. Several successful online business models rely solely on content for revenue.
One of the most popular content-based business models is affiliate marketing. Typically, an "affiliate" will leverage their content, brand, and reputation to drive traffic (and sales) to a third-party e-commerce or SaaS site. The affiliate then takes a commission, often known as a "referral fee", for referred sales made on the third-party site.
Amazon started its wildly successful affiliate marketing program, known as Amazon Associates, in 1996. It has been estimated that Amazon's affiliate program is responsible for 40% of sales. If that estimate still holds true today, the net revenue from the Amazon Associates program in 2016, in the US alone, would total $54.4 billion. Affiliate marketing spending (the amount of commission paid by advertisers to sites whose links convert to sales) totaled $4.5 billion in 2016 and is expected to climb to $6.82 billion in 2020.
One example of an extremely successful affiliate marketing business comes from Wirecutter. According to Bloomberg News, Wirecutter generated $150 million in e-commerce sales in 2015. Shortly thereafter, the New York Times bought Wirecutter for over $30 million dollars.
These numbers suggest that affiliate marketing is big business. It is. But there is still plenty of room for newcomers. The secret is to find a desirable niche with as little competition as possible. Wirecutter found a broad and lucrative niche. Creating content up to the standards of one of the world's great newspapers, Wirecutter became the go-to site for consumer technology reviews and recommendations.
Online marketing guru, Neil Patel, has written extensively on the importance of finding the right niche. In a nutshell, do your research and find a piece of the market where demand for a specific product or products exceeds supply. Focus on building the most authoritative online site related to your chosen niche. Content and branding are at the heart of any successful affiliate marketing business.
3. The eCommerce model: Building a digital storefront
Last but not least, we have e-commerce. E-commerce was one of the first online business models. To this day, it is the one consumers are most familiar with.
In 2011, an estimated 1.66 billion people worldwide purchased goods online.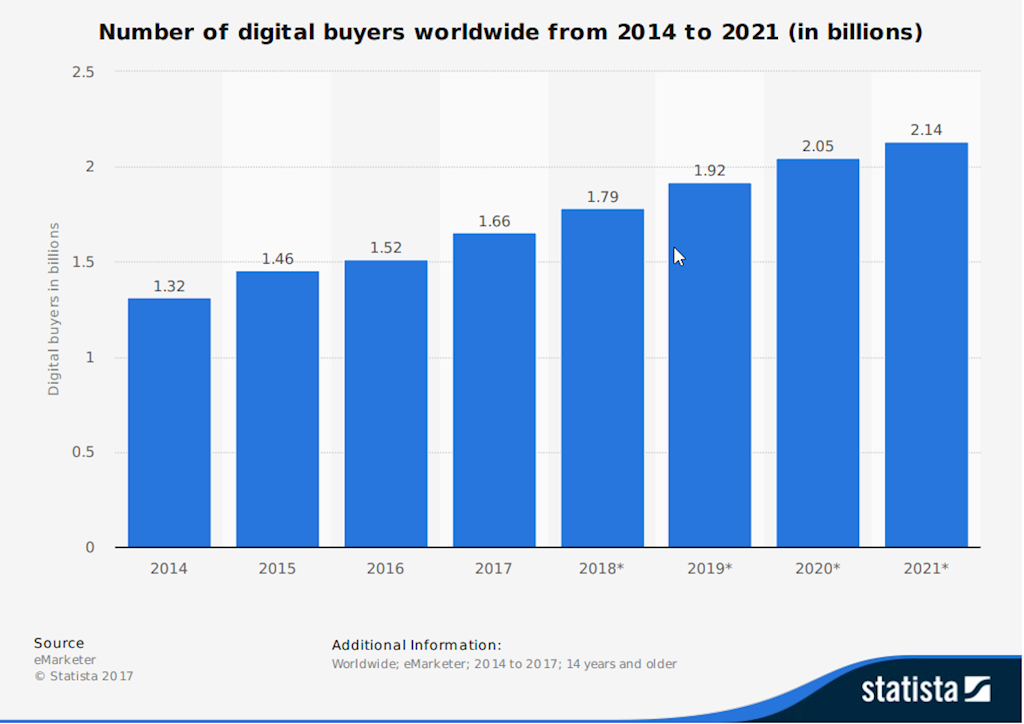 (Courtesy: Statista)
By 2021, that number is projected to grow to 2.14 billion!
Odds are, when you think of e-commerce, you think of Amazon, or perhaps other retail behemoths like Walmart or Best Buy, both of which started as traditional brick-and-mortar businesses. Who can blame you?
For every dollar spent online in 2016, Amazon took 53 cents. But even though Amazon received $147 billion of the $394.86 billion spent online in 2016, that still leaves $247.86 billion dollars on the table for smaller e-commerce businesses. Certainly, most people would be happy with a tiny fraction of that.
It's never been easier, from a technical standpoint, to create a fully functional e-commerce platform all by yourself. Platforms such as Shopify and Volusion promote ease-of-setup as one of their unique selling points (USP). Shopify Payments makes it easy for e-commerce owners to outsource credit card payments, and customer data security, to Shopify's payment gateway. All of this without paying a higher rate than you would with a third party payment gateway.
Another lucrative e-commerce platform to consider is Fulfillment By Amazon (FBA). FBA business owners get to partner up with the industry leaders in supply-chain-management to build a brand and leave the order fulfillment up to Amazon. Amazon handles inventory, warehousing, order fulfillment and customer service — including returns. Best of all, Amazon doesn't charge you a dime until you make your first sale.
Finally, why not have the best of both worlds? Shopify recently implemented integration with FBA.
There are many other e-commerce platforms to choose from, including BigCommerce and Magento. Whichever platform you go with, make sure you employ the following methods to help you succeed:
Conclusion
The global marketplace that is the internet has never been more accessible to entrepreneurs and business owners than it is today. There is a myriad of variations on the business models falling under the broad umbrella terms of SaaS, content and e-commerce. Many of these can be started with a minimal amount of investment capital — especially when compared to a brick-and-mortar endeavor.
Bottom-line: explosive growth in the online business sector isn't expected to slow down anytime soon. E-commerce sales are expected to amount to 4.058 billion dollars by 2020.
Access the latest business knowledge in Management
Get Access
Comments
Join the conversation...