The hiring process is a war you can't win alone. It takes a team to headhunt the right candidates, guide them through all the stages of your recruitment process and, eventually, onboard them.
What's more, recruiters rarely have any say when it comes to decision making. This often involves department management or even top executives. Not to mention the collaborative hiring that involves people from other departments, not just recruiters and management.
But how do you keep everyone on the same page throughout the hiring process?
Phone calls? Nobody's got time for that!
Emails? It takes forever to hear back from a person you address. That is, of course, if your message doesn't get lost in their inbox.
Team communication tools like Slack (or any of its numerous alternatives like Google Hangouts Chat, Microsoft Teams or Chanty) on the other hand, can be a real game-changer, helping you orchestrate the negotiations and speed up the decision making so you can snatch the best candidates.
Working on our own Chanty team chat app, we've tried dozens of existing tools and know the ins and outs of team communication. We've also learned to apply our knowledge to different aspects of our work, including recruitment.
So when it comes to collaborating during the recruitment process, how could these team communication tools help?
1. They put everybody in the same room
Have you ever thought about how much time we waste trying to communicate across different channels?
Some people still prefer phone calls. Others insist on handling all work-related communication via email. There are even people who should be addressed in person if you don't want to wait forever to get their feedback.
As a result, keeping your teammates on the same page can become a major headache, eating up hours of your precious time.
That is why setting up a single platform for everyone to use is a must.
Team communication tools create a unified place for your team, bringing all of the parties involved in the recruitment process together and allowing them to collaborate effectively. To make your collaboration even more productive, you can set up different types of chats.
For example, we use Public conversations (the ones every team member has quick access to any time) to share and store team-wide knowledge and to update all of your colleagues on important news. Right now, there are over 40 Public conversations that anyone within our team can access.
There's also a conversation called "random" where we share and discuss anything from a cute cat pic to that life-changing TED Talks video you've found on YouTube. This is a great way to break the ice and facilitate communication between departments or individual employees.
Private conversations offer a room for you to discuss more specific issues. They can be department-related (as illustrated below), or focused on a specific task, e.g. "hiring-dev", "hiring-marketing".
To drill down on a certain question or task, you can create a One-on-one conversation room with any of your colleagues. This allows you to discuss some things that should remain private and prevent unnecessary distractions for those who don't need to be involved in the conversation.
2. They make it easy to allocate duties and track your tasks
Interviews, team meetings, due dates… It's hard to keep track of all your tasks during the day when they just keep piling on.
That's why there are dozens of task management apps out there, like Trello, Todoist or Hitask, that can help you stay organized. Yet, introducing another tool to your team or the people from other departments can turn out to be a real challenge (and often a waste of time too).
Luckily, most team communication tools provide such capabilities out of the box: through third-party integrations or built-in task management features. For example, Microsoft Teams makes it really easy to create, assign and track tasks right within your team chat, integrating with apps like Asana, Wrike, Zoho Projects.
Our team, on the other hand, uses a built-in task manager to stay on top of our tasks. As a result, we can instantly turn any message from our team chat into a task and assign it to one or several of the team members. They, in turn, can discuss the task in a separate thread.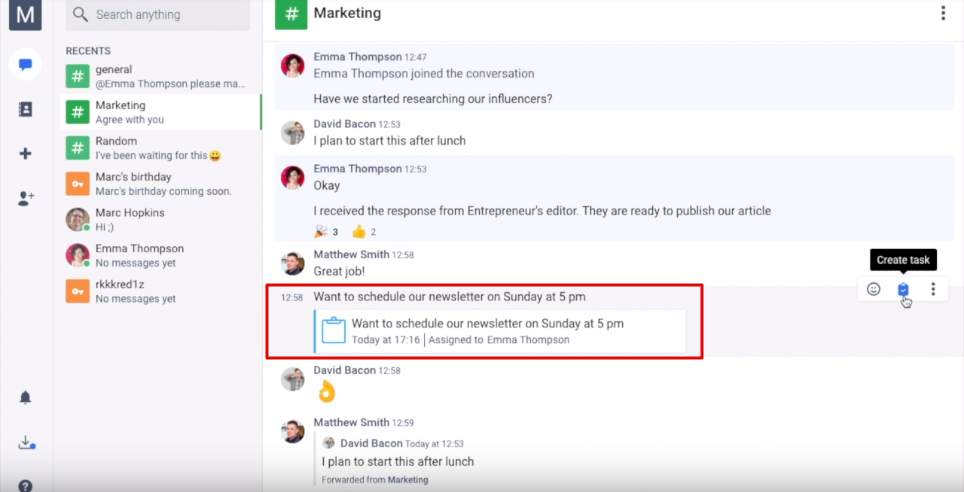 On top of that, it's also a convenient way to see your current progress: you can simply sort the existing tasks by status, due date or assigned people to keep track of your team's workload.
3. They can serve as a virtual information desk
Messages, files and tasks can get buried in your chat history. What's more, with dozens of public and one-on-one conversations happening every day, it might be difficult to find that one chat you had with a lead designer a week ago when you discussed the new hire.
That is why team communication tools tend to offer a great variety of handy tools to lighten this burden: you can pin important messages or add the most important chats to favorites, etc.
Talking about our team, we have a dedicated hub within our messenger, called Teambook, to keep all conversations, tasks, pinned messages and shared files at hand at all times.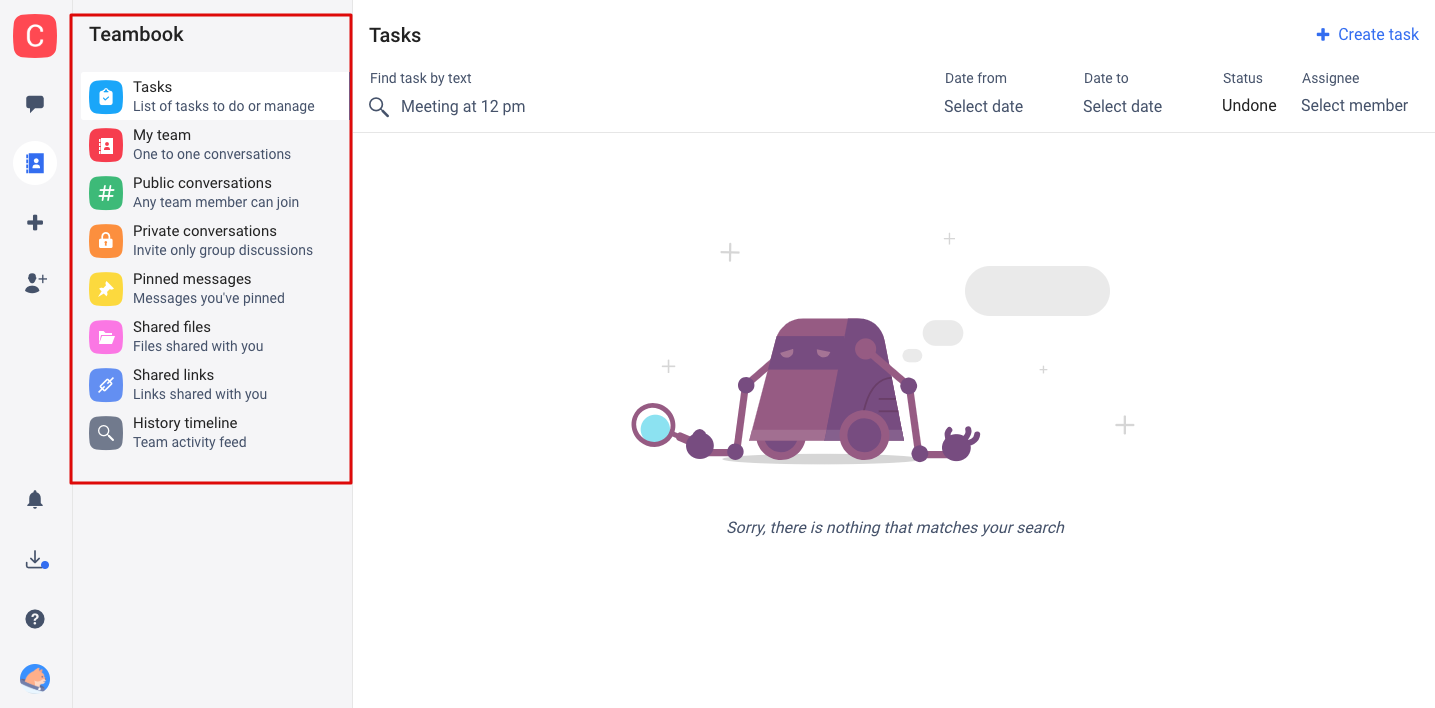 Taking into account the amount of information that a typical team chat accumulates over the years, it can also serve as a unified knowledge base. Be it a file you've shared, a task you've discussed, or a candidate you've rated with your colleagues, it all stays in your team history (unless your communication tool has a message history or storage limit). So you can simply search the required information within your communication tool.
Consider this. If you need to follow up the candidates you've talked to earlier, you can easily look up all of the information about your previous interactions in a team chat. As a result, you can find the perfect way to address them and get their attention this time.
4. They help you stay focused
Sometimes, your team chat can get just too noisy. With dozens of people discussing their problems, arranging meetings, sharing funny stuff they found on the internet, it is extremely difficult to filter out what's really important.
No surprise, many communication tools strive to put you in charge of the things you get notified about. This means you can manage your notification settings to zone out from the noise.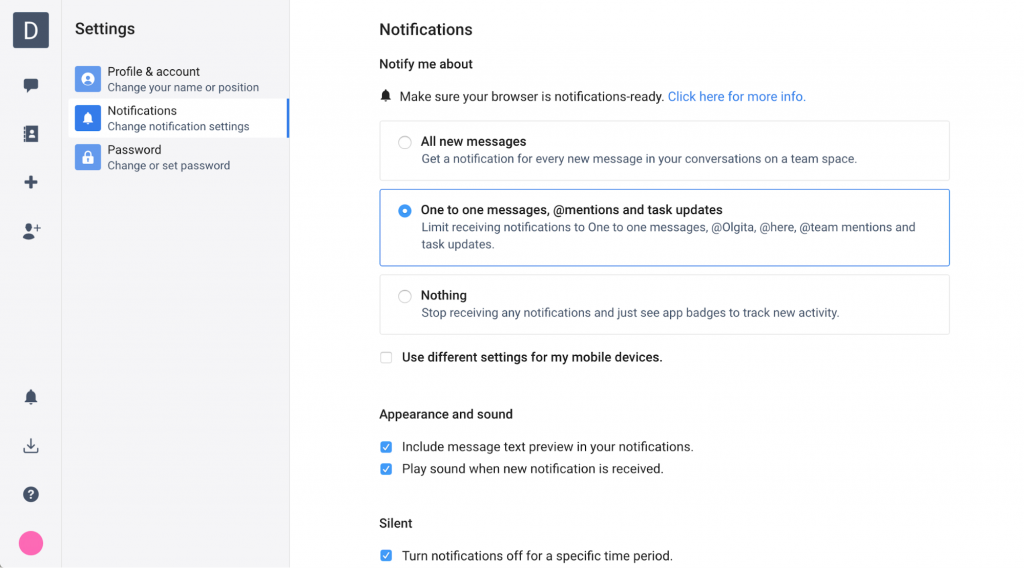 This is a great way to cut away the distractions and stay productive during the day.
However, most team messengers also make sure you never miss an important message. Even if you mute a chat or turn on the "Do not disturb" mode, other team members can still address you directly using mentions.
For example, if I need an instant reaction from one or several of my colleagues I can ping them by writing their usernames after the "@" symbol to make sure they see my message anyway. This helps when there's an urgent question or unpredicted change in your schedule.
5. They keep your tools in sync
As mentioned above, you can easily integrate task management capabilities into your team messenger. Yet, project management is just the tip of the iceberg. There are more tools a team needs to stay efficient: from handling internal processes, e.g. office management and accounting, to dealing with clients, e.g. CRM and customer support.
Candidate management in recruitment often depends on external applications, such as Greenhouse, Recruitee, Hello Talent, etc. As a result, you need to switch back and forth between the apps, trying to keep the applicant information up to date and make it available to all the people involved in the hiring process.
In this case, integrating these apps with your team messenger can help you turn it into a unified control hub for all the tools your team relies on.
Bridge the communication gap within your recruitment process
If you think about it for a moment, your team chat can be so much more than a virtual water-cooler. There are so many powerful features and add-ons to make it a real collaboration Swiss Army Knife.
Team communication tools can help you develop healthy and productive relationships within your team and streamline cross-department communication, especially in recruitment.
Schedule an interview that involves people from different departments. Share the candidate's CV with the decision-makers and get instant feedback. Track your progress and collaborate with your teammates on various tasks. Keep your applicant management system up to date. The possibilities are endless.
All you need to do is find the right communication tool and take full advantage of its capabilities.
Access the latest business knowledge in HR
Get Access
Comments
Join the conversation...