Being a great leader isn't easy. There is a thin line between being too lenient in a bid to be liked by your team and turning into a strict dictator not to be reckoned with. When stress levels are high and things aren't going as planned, leaders often want their team to pull together and work hard. But no-one is going to push themselves if they feel as though they are being led by someone incompetent.
Many leaders are good, but to stand out and become great, you need to focus on a number of different leadership qualities. Read on to find out:
What makes someone a leader?
What leadership qualities do you need to be a great leader?
What makes someone a leader?
Leaders help their employees do the right thing by guiding them in the right direction and create an inspiring vision for others to follow. Although the term leadership can mean different things to different people around the world, possibly one of the biggest questions surrounding leadership is whether leaders are born or made.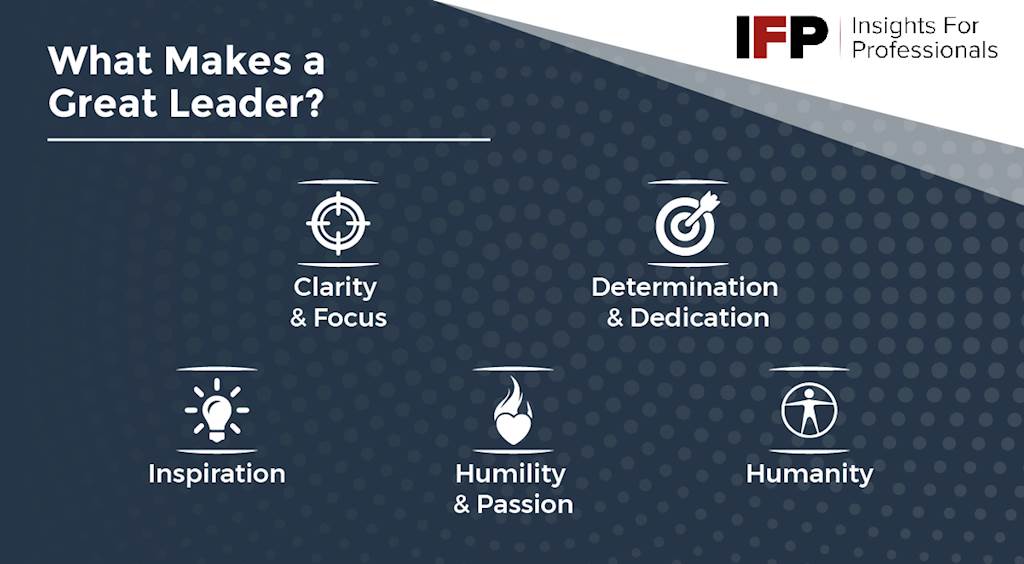 Many believe that it is mixture of genetics and what we have learnt through life experiences. Research by University College London suggests that genetic differences are linked with whether people take on leadership responsibilities or not.
However, professors at the University of Illinois say that leaders are in fact made, not born. They suggest that leadership development follows a specific course of progression. David Rosch, professor at the College of Agricultural, Consumer and Environmental Sciences at the university said:
It's a three-legged stool: we call it being ready, willing, and able. Students first become ready to learn about being a leader; then they become willing to learn the skills necessary to practice leadership; and finally they're able to lead because they have the skills and the motivation to do it. You can't really move on to the other legs of the stool until you've achieved a certain amount of this readiness.
What leadership qualities do you need for a great leader?
Although there are many attributes of great leaders, here are five from some of the most influential leaders of our time.
1. Clarity & Focus
The best leaders are clear and brief at all times. They know what their vision is and what they have to do in order to achieve it. This makes them stand out from others because many people are unsure of what they want.
Jeff Bezos, founder and CEO of Amazon.com, demonstrates this. After graduating university and finding work in several firms on Wall Street, he took the risky move of quitting his job and focused on eCommerce in a way no one else had ever before envisioned, which now has a market value of $174 billion. He had a clear vison of what he wanted to create and made it happen, and although his leadership is said to be demanding, thousands of people aspire to work for him.
2. Determination & Dedication
Determination to lead your company into success with a great team behind you is a vital quality for a great leader, which also means dedicating yourself to working hard. Elon Musk, CEO of Tesla Motors and SpaceX, epitomizes these attributes through his vigorous work-ethic. After all, you don't lead two of the world's most innovative companies without it.
Musk has been faced with an army of people criticizing his objectives, but isn't swayed by those who don't believe in him. Instead, his unbeatable drive means his ventures set the bar for others in the industry. He reportedly works 100 hour weeks and is still never satisfied, but his vision sets a motivational example for his employees, encouraging them to push themselves to their fullest potential and beyond.
3. Inspiration
A great leader is an individual who inspires others and is someone employees can look up to. Chairman of the Alibaba Group, Jack Ma, did just that when he gathered 17 of his friends into his apartment and began building an online marketplace, now the world's largest online businesses.
After failing China's college entrance exam twice, he kept trying to eventually pass on his third try. After being rejected by 30 different job applications, Ma didn't give up hope and eventually became an English teacher. And when his first business China Pages didn't go as planned, Ma was determined to try again. This was when Alibaba.com was born.
Throughout the development of his business, he constantly told employees to "think big" and "work for their dreams". His fantastic leadership also led his team to feel more like a close-knit family, according to employee Porter Erisman.
4. Humility & Passion
There is nothing greater than a leader who has a loveable persona. Someone who is humble, admits when they are wrong, but doesn't take all the credit when they get it right. Bill Gates has always taken a very selfless approach to his style of leadership, demonstrated by the amount of time and money he had given to others who need it the most through the Bill and Melinda Gates Foundation.
Despite his huge business success, he doesn't focus on his own personal gain but helps others to grow. He once said: "I hope you will judge yourselves not on your professional accomplishments alone, but also on how well you work to address the world's deepest inequities, on how well you treat people a world away who have nothing in common with you but their humanity."
5. Humanity (get enough sleep)
Many leaders boast about getting up early, having a few conference calls and squeezing in an hour gym session all before their 8am breakfast meeting. However, missing out on a good night's sleep can affect your leadership ability and cause your performance to be poor.
Arianna Huffington, founder of The Huffington Post, says looking after your health and wellbeing is vital to being a great leader. After fainting from exhaustion and breaking her cheekbone from the fall, Huffington began her own journey of rediscovering the value of sleep. Earlier this year she stepped down from her editor-in-chief position to build Thrive Global, a lifestyle, health and wellness site.
Speaking at TED Women 2010 she said: "A high IQ does not mean that you are a good leader, because the essence of leadership is being able to see the iceberg before it hits the Titanic."
Often leaders who focus on just one specific quality, such as determination or passion alone, aren't as successful as those who try to incorporate a variety of qualities. By combining all of the best leadership attributes, it will enable you to manage a team well and overcome many future challenges.
Access the latest business knowledge in Management
Get Access
Comments
Join the conversation...