There is no longer an excuse for not segmenting your audience correctly because email marketing automation software can do most of the work for you. Email segmentation is crucial, especially in the e-commerce industry. Consumer behavior is ever-evolving and you have to keep up with the trend.
Segmented emails have a 14.31% higher open rate and 100.95% higher click-throughs compared to unsegmented campaigns. It allows you to better connect with your customers by presenting the right product to the right person at the right time.
So how can you use segmentation to improve your email campaigns?
1. Segment using demographic data to sell different products
Gone are the days of marketing using one message that's meant for everyone. Now you can create an ultra-specific message for the right group of people.
One segment could be according to age. Create email copies that are suitable for a particular age group and include products that match their interests.
Another one could be according to gender. You can then use the appropriate masculine or feminine message and products in your emails. One example of this is from Harry's.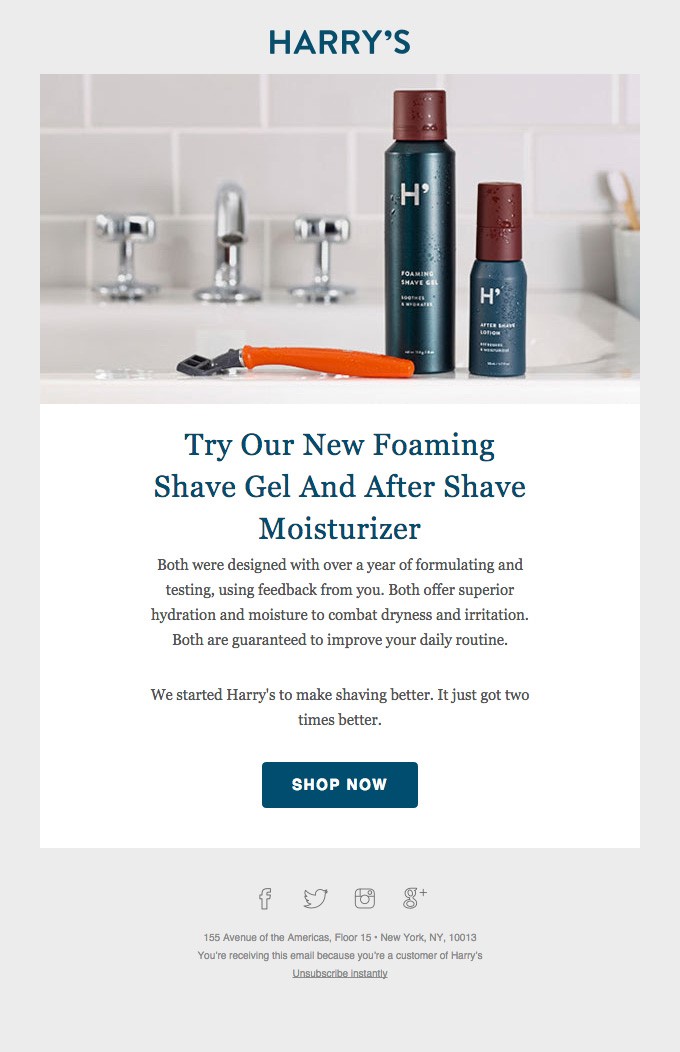 Other demographic data you can use for segmentation can include;
Educational background
Job
Location
Ethnicity
Using the different types of data will help you create micro-segments so you can send more effective e-commerce emails.
2. Use buyer behavior to prolong the purchasing cycle
Each type of customer interacts with your brand differently. Creating segments based on their buying history will let you take care of your relationship better without unnecessary marketing costs.
For example, you don't need to give coupons to customers who easily buy without your help.
You can divide your segments into first-time buyers, repeat customers, and inactive customers.
a. First-time buyers
Your goal for this group is to encourage repeat purchases. Send a series of thank you and transactional emails. Create a wonderful purchase experience for them so they would want to return to your shop again.
Transactional emails can include purchase confirmation and shipping confirmation. After the client has received the product, keep communication lines open by sending emails about usage or care and automated birthday emails. You can also ask for feedback, it will not only prolong the conversation but it also allows you to improve your product and service.
b. Repeat customers
For this group, you can give loyalty discounts or free shipping upgrades. Take care of your repeat customers because it's easier and cheaper to keep them coming than to acquire new ones.
c. Inactive customers
This is the group where you should work thrice as hard to gain back. You can give discount coupons and special offers. The 60% off winter clearance by Crate&Barrel was a great way to win dormant clients back.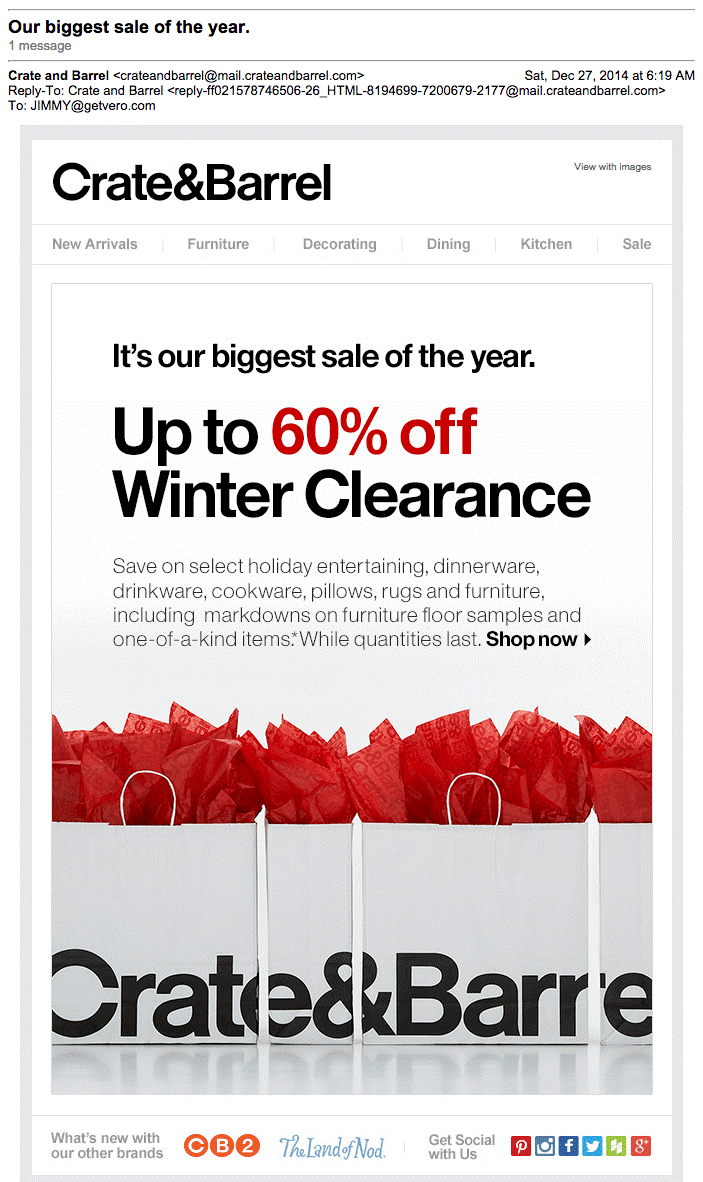 3. Segment according to amount and type of purchase
Segmenting your clients according to purchase amount makes it possible for you to give the right up-sell. You can present products based on the previous price range to increase the odds of a repeat transaction.
It also lets you provide special treatment to clients with high value purchases. Take care of these high-value customers because they will give the most revenue if they keep coming back.
Automation software allows you to keep a record of the types of purchase. This is especially useful if you have plenty of products as the data will allow you to curate products that you know they will love.
Here's a curated email from Fab based on a customer's past purchase.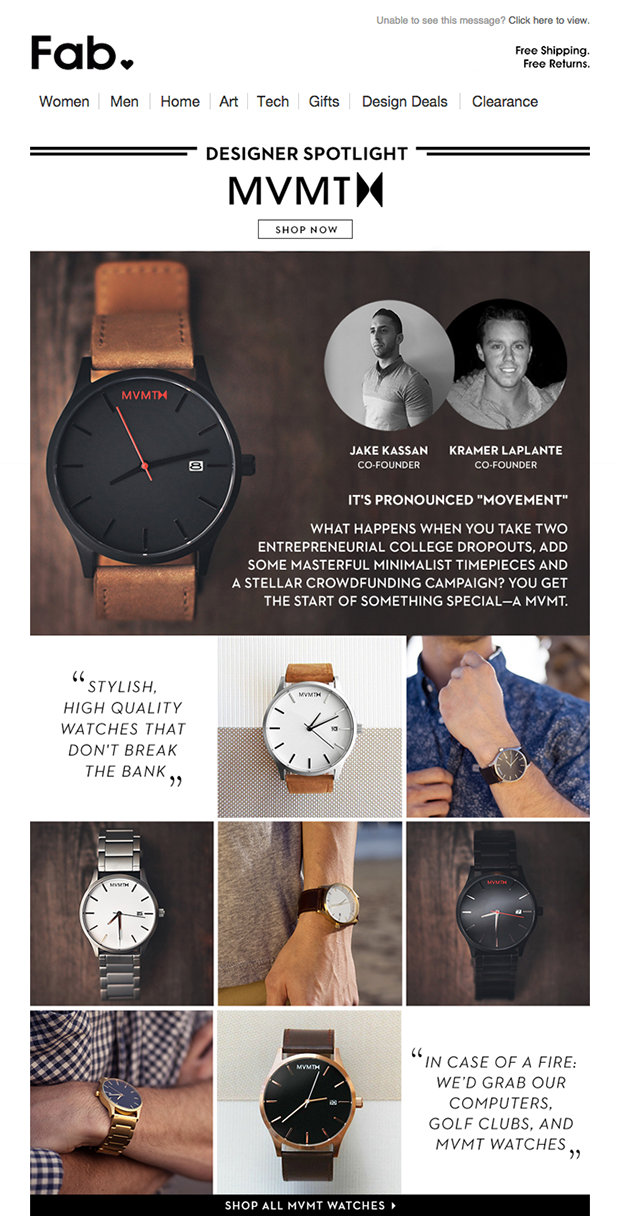 4. Segment according to website activities
With the help of digital tools, you can now gather data about website behavior. Some data you can collect includes:
Scrolling behavior
Pages visited
Icons clicked
Videos watched
Just like the other types of data discussed, website behavior will allow you to create micro-segments and highly targeted emails. An abandoned shopping cart is one website behavior you can use to your advantage by sending them a reminder email or additional discount. Here's a brilliant example from Target.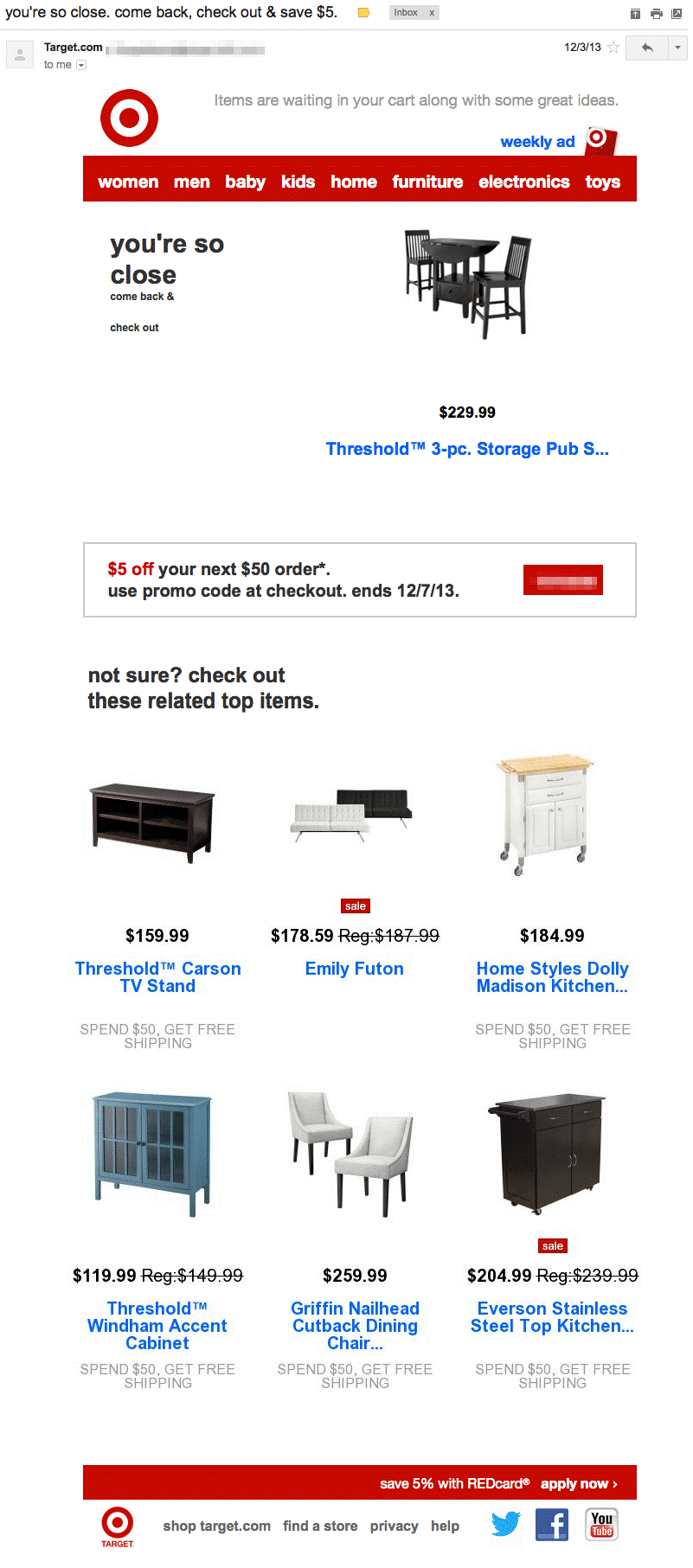 Conclusion
Proper segmentation is one of the key ways to upscale your e-commerce business faster. With your effective segments to hand, you can create email campaigns that are highly targeted and incredibly personal. Combine these segmentation techniques with great products and smooth service, and the next thing you know, you'll be growing in popularity.
Access the latest business knowledge in Marketing
Get Access
Comments
Join the conversation...