Forward thinking businesses of varying sizes are harnessing the potential of physical spaces to spur creativity and idea sharing among employees. It makes sense. The average person spends 33% of their week in the office and the proliferation of remote working technologies mean it is no longer absolutely necessary to share a communal place of work. This makes it more important than ever to make the office a fun, enticing and stimulating place of work.
Companies like Google, Red Bull and Innocent have gone the extra mile to introduce quirky and unique features for their employees to enjoy. Slides between floors, in-house coffee baristas, themed conference rooms, even cocktail bars in the office; there are no limits. Read on to:
Discover the coolest work spaces in the UK
Pick up some great ideas to transform your own office space
Find out why these businesses have made the design choices that they have
Red Bull – Soho, London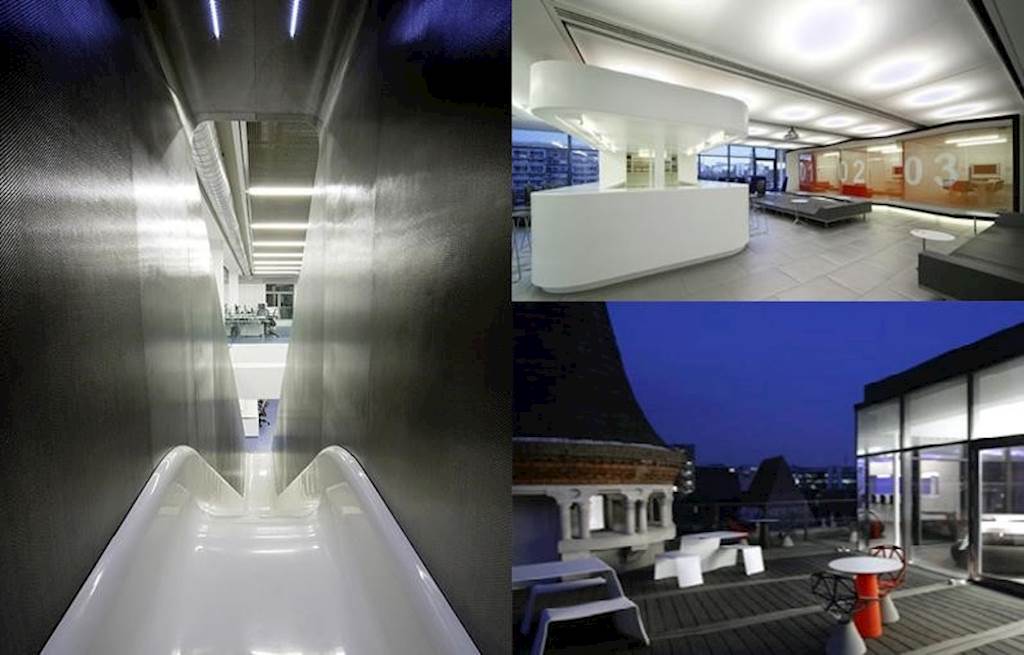 Red Bulls office space reflects the sleek and energetic ethos of the company. The 1,860 square meter HQ in London's West End was designed by Jump Studios to encapsulate a sense of freedom between the floors with cut away views, floating staircases and lots of streamlined silver carbon gliding in curved slopes around the walls and stairs.
An enclosed slide offers employees a quick and easy way down between floors and there's a ping pong room for employees to let off steam.
This office makes the list as it manages to perfectly incorporate a fun element into a contemporary design, inspired by the hyperactivity and adrenaline rushes that the company encapsulates.
S3 Advertising – Cardiff
Bold and quirky design isn't out of reach for smaller businesses. Ambitious and rapidly growing S3 Advertising are a Cardiff based agency whose office space rivals the workplaces of those whom we'd expect innovative design to come from.
Kitted out with an 18-hole golf course, a ball pit, games room, giant hammocks and much, much more, the S3 HQ isn't your average office. A 32 square meter meeting room takes centre stage in the open plan workspace, which includes three offices, two meeting rooms and a dedicated video production room.
Matt Jones, CEO of S3 said of the space "We work in a highly creative industry and wanted our offices to reflect the talent and skills of our team. As a result of our investment we can now offer a more positive working environment which will help us to attract the highest calibre of candidates, increase job opportunities, boost our service offering and enable us to progress with expansion plans and long term business goals."
Google – Kings Cross, London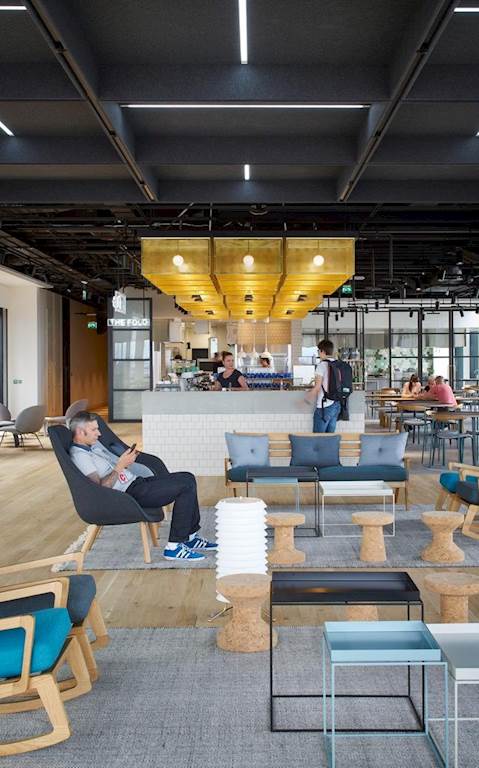 Google is famous for its office designs with employees able to literally live on their campuses. Their new London HQ is under development at the time of writing but once completed, the state of the art complex will house 2,500 employees.
Google says the building was constructed with "sustainability and healthy materials in mind". The search giant hired carbon consultants specifically to reduce the environmental impact of the complex and save energy.
Complimentary food and drink will be available to 'Googlers' from a variety of coffee bars throughout the building, and open networking areas encourage employees to collaborate on projects together. Other features include large open outdoor spaces (a rarity when it comes to London real estate), a gym and even a running track.
Virgin Money – Edinburgh
Virgin Money's office in the heart of Edinburgh's financial district, designed by Spacelab has won an award from the British Council for Offices.
The space is modern and open, but warm and inviting, subtly branded with the company colours.
The open design encourages interaction between departments and a number of comfortable and cosy breakout spaces provide plenty of opportunity for staff to relax.
Perhaps the most interesting feature is the eye-catching indoor sky; developed under the assumption that sky gazing helps to improve and nurture employees' creativity.
Ticketmaster – Tech City, London
Ticketmaster's London office is one of the more interesting offices on this list, designed to reflect the fun and dynamic nature of the company. It has a number of features and facilities that encourage socialisation and creativity among its 450 staff members.
Facilities include the Sanctuary, a relaxing space for those seeking a bit of peace and quiet and even a quick massage; the Fitness Studio which hosts everything from yoga classes to circuit training; and the Imperial, an after-hours breakout space that houses a bar, a jukebox and pinball machines. Like the Red Bull office, Ticketmaster also have a slide to help employees get to the bar faster after work and to unleash their inner child.
Innocent Drinks – Kensal Rise, London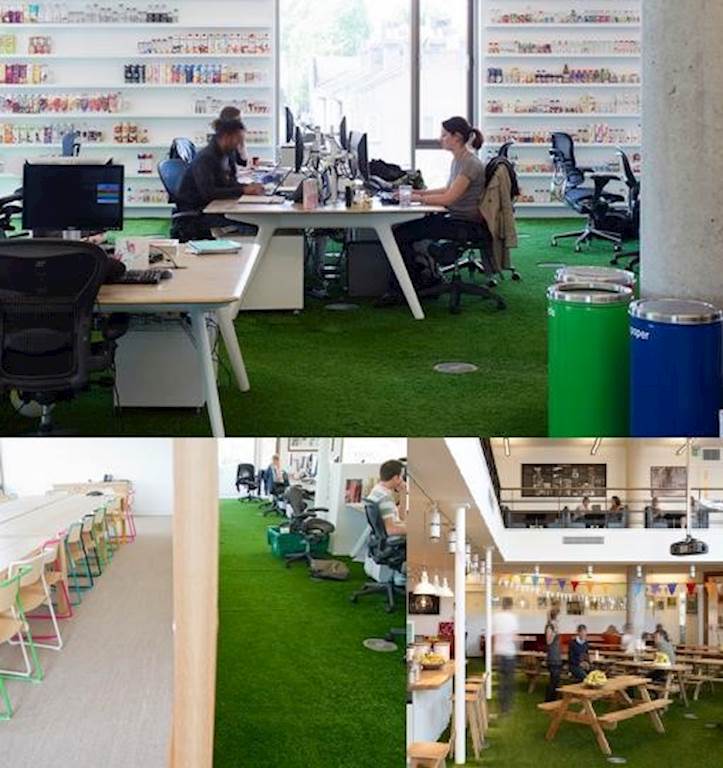 Innocent Drinks has taken an interesting approach with their office design, bringing a touch of nature into their workspace.
The floor is carpeted with artificial grass throughout, even underneath the desks. A cut away floor space on the second storey gives the office an open and friendly atmosphere, allowing an abundance of natural light into the space. The large picnic style lunch area is reminiscent of a local fair, complete with bunting and bench tables.
In tune with the ethos of a brand that sells real fruit, marketed with folksy eco-friendly messages, their office space echoes their environmentally conscious agenda. A green light alerts staff as to when the outside temperature is warm enough to shut off the air conditioning and a lever labelled "last leaver, pull the lever" shuts down all of the power to the office once the work day is finished.
While a complete overhaul to mimic the spaces referenced within this article might be out of reach, businesses of all sizes can take inspiration from these innovative and quirky examples. Small changes with the happiness of your workforce in mind can inspire creativity, increase loyalty and even improve your employer brand.
Access the latest business knowledge in Management
Get Access
Comments
Join the conversation...