Cognition is one of the most outstanding capabilities representing the human species that help them succeed and achieve extraordinary challenges. In artificial intelligence, a cognitive system was developed mainly due to the explosion of unstructured data. However, these systems expand the human cognition boundaries instead of replicating or replacing them.
What is cognitive automation?
Cognitive automation refers to artificially intelligent software systems that learn rules, understand language, reason with purpose, and naturally interact with humans. They do not require explicit programming, instead they interact with their environment and learn from the experiences.
Cognitive automation is a sub-discipline of AI that combines the capabilities of human and machine. It uses various techniques to simulate human thought process, such as machine learning, natural language processing, text analytics, data mining, and pattern matching.
Unstructured data is difficult to interpret by rule or logic-based algorithms and require complex decision making. Intelligent/cognitive automation is a good way to take unstructured data, understand it, format it, and then pass it to the more traditional RPA bots to process at scale. It is a self-learning system that imitates the way a human brain works by going through the steps of observation, evaluation, and decision making.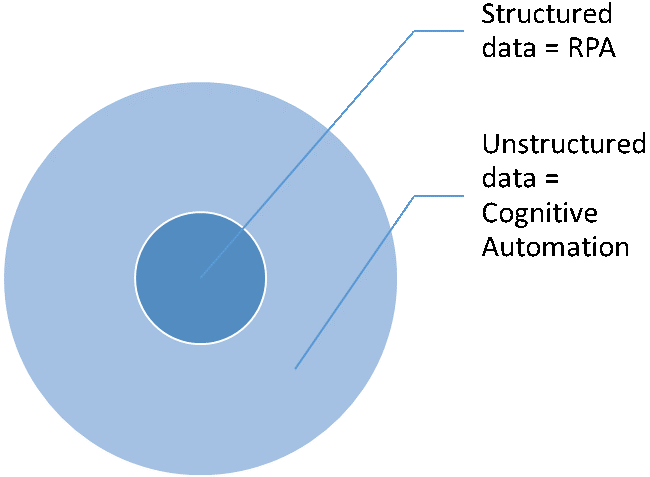 The key benefits of cognitive automation
Cognitive Automation provides a collaborative solution by combining the strengths of human, i.e. deep thinking and complex problem solving; and machine, i.e. reading, analyzing and processing huge amounts of data. Thus, it extends the boundaries of human cognition instead of replacing or replicating a human brain.
In addition, a cognitive system creates a natural interaction between computers and human, combining the capabilities to learn and adapt over time. Another element of such systems is the use of machine learning.
Nonetheless, cognitive automation is reaching out to provide capabilities of understanding, reasoning, learning and interacting. These systems understand unstructured data, images and language and virtually operationalize structured and unstructured data. They can reason, form hypotheses and extract ideas. They continue to learn, adapt and increase expertise with each interaction and outcome, interacting naturally with humans with their abilities to talk, hear and see.
The differences between cognitive automation and RPA
To make an informed decision for investing in AI technologies, it is important to understand the differences of both RPA and cognitive automation.
Application
Robotic process automation (RPA) uses software robots to mimic repetitive human tasks with accuracy and precision. It is ideal for processes that do not require human intervention or decision making. Conversely, cognitive automation imitates human behaviour for more complex tasks that involve voluminous data and require human decision-making.
Technology
RPA uses basic technologies, such as workflow automation, macro scripts and screen scraping. It depends on framework configuration and deployment. Conversely, cognitive automation uses advanced technologies, such as data mining, text analytics and natural language processing, and works fluidly with machine learning.
Data Processing
RPA can only process structured or semi-structured data formats. Cognitive automation processes unstructured data by learning and finding similarities.
Method of Automation
RPA is a process-oriented technology and uses rule-based principles to work on time consuming tasks. Cognitive automation is knowledge-based and defines its own rules by understanding human conversations and behaviors.
Integration of Cognitive Automation and RPA
The integration of RPA and cognitive automation can provide an end-to-end solution of automation by processing both structured and unstructured data efficiently. For example, it becomes possible to extract and learn from audio, speech, images or text with speech recognition and natural language processing, and pass that information on to help RPA take the next step. Thus, cognitive RPA is capable of transforming business strategies by providing greater customer satisfaction and increased revenues.
To support the integration, the bots of Automation Anywhere are capable of handling both structured and unstructured data. They have a cognitive IQ bot to bridge the gap between standard RPA and emerging AI platforms.

The cognitive automation can then learn from this process as it goes, which means that the cognitive automation can suggest new work to automate.
Cognitive automation and process mining
Process mining is a term used for structuring processes. The execution of business applications generates data that is used to analyze and reason the business application status. Process mining uses this data to construct as-is process models automatically. To define a process model, a lot of structuring work is required, and this can be done by machines with process mining. With the automation, the as-is processes can help evaluate the ROI expectations and provide improved customer service.
One of the challenges of automation can be the cost of identifying which processes or tasks to automate. Traditionally, this is done centrally by the team implementing the project. The cognitive automation approach means that the bots can not only do the job, but also make it more efficient over time.
They can operate by observing the task being done and then develop the solution to automate it. It can operate in the following manner:
Record what users do
Mine and understand it
Map all the steps of the process
Suggest automating it
There are many more applications of automation for structuring processes, including process strategy, modeling, implementation, execution, monitoring and control, and continuous process improvement. Thus, intelligent process mining ensures highly efficient processes consuming less time and lower costs.
Access the latest business knowledge in IT
Get Access
Comments
Join the conversation...