So much of the change revolution is driven by the rise of social media, which is now embedded in how we're actually living – to the extent that without social media to enable communication with colleagues, with networks of friends or even with our own families, it's very hard to make everything work! We need to be in the know on every front, because that's how we can stay in control.
For business, the implications are tremendous. A lot of businesses have compartmentalized Internal Communications (IC). But they need to get their head around this huge change, and the total transparency that it brings.
Today, Internal Communications and External Communications are co-dependent. Authenticity sells on both sides. People demand to know the truth about the organization they are working for. And technology allows them to track it, share it and interact with it. It's time for companies to jump on the bandwagon and turn Internal Communications into a vehicle for engagement.
Our Book, The People Business, is like a high-res snapshot of the state of Internal Communications at a critical moment in the rise of inside/outside marketing. We've been privileged enough to speak to expert practitioners within IC to get a better understanding on how businesses are able to utilize communication strategies for better engagement.
Progressive businesses are seeing how the communication of its values and vision can quickly become a leaky sieve. The antidote to this being the ability to create dynamic conversation with employees around the direction of the company. We've seen the flipside in recent years – the BP oil spill, the infamous Turkey Twizzlers, even the growing number of high-profile data breaches – where trust in the organization's communication strategy plummets among employees AND customers.
Businesses must get their story straight and consistent across every channel. Messages must be crafted through engagement rather than telling people what they should do and think.
What lessons can we take from those interviewed in The People Business and their many decades of experience about what 'good' looks like in Internal Communications?
Whilst The People Business doesn't set out to give the rights or wrongs of Internal Communications, it demonstrates ten different approaches to managing the challenges of change – shared by some of the most innovative practitioners in their field. Their combined experience adds up to a formidable hive of minds and their hard-won successes have changed the role of Internal Communications for the better.
The wisdom gathered from these stories is immense, and allows us to distil some essential truths:
Deep understanding
You have to really understand the world of your business. It's not enough to have general soft skills. Those in IC need to have a deeper and broader understanding of how the business works, and what the business message is.
Get past the numbers
It can be easy to get sucked into the numbers, but the key to successful IC is to get past this. Treat your people as individual human beings, not just as assets in a spreadsheet.
Trust
At the end of the day, you need to trust your people. Whether it's the opinions of employees from across the business, or feedback from those in your team on a particular campaign. Showing this level of trust will mean that they in turn trust you.
Be relevant
Engage employees on topics that are relevant to them. If your topics aren't relevant and timely, employees will become disengaged with your message.
Don't rely on data
Go into your Internal Communication campaigns with an open mind and broad shoulders. There's no point being defensive – or looking to the data to give you a specific, pre-defined mandate!
How do we achieve successful internal communications?
The practitioners interviewed and the stories shared allow us to see the world of communication from a fresh perspective. Understanding the challenges they've faced and how they've overcome them allows us to build a picture of what a successful IC looks like:
Be authentic
Authenticity and transparency are two of the most valued traits in an internal communications strategy. Employees won't tolerate it if you don't embrace them.
Get stakeholder buy-in
How stories are told is often most effective in the actual voice of the communicator. Don't create messages that have come from the CEO, get stakeholder buy-in and engage the CEO in delivering their own message.
Don't force it
Just as authenticity and transparency are important, being natural is also a key component of a successful IC strategy. If you force it, employees will know and they'll lose interest.
Keep it personal
Communication by impersonal messaging is not engaging. This goes hand-in-hand with the lesson of relevance. If it's not relevant and personal to the individual, why would they be interested?
Conversation requires work
You need to listen and encourage conversation. Conversation is a two-way channel. If you don't open that channel up, you're simply creating a broadcast.
Think about measurement
Capture feelings, and underpin your discoveries with data so you can measure engagement consistently and continuously. This is the only way to determine if your IC strategy is working and being effective.
What we've learnt is that the most successful practitioners understand how people are impacted by events and issues that are beyond their control. Change always knocks over the apple cart; it scares us and we don't like it – and it prompts all kinds of different behavior. Companies that recognize this and become good at processing it will also thrive on change. You have to do your groundwork if you want to bring your people with you – and that means going the extra mile when it comes to engagement.
What's the key to successful engagement with a multi-cultural, multi-generational and often geographically distributed workforce in challenging times?
Our research reveals that when it comes to communication in general, social media is the common denominator across just about every demographic. It isn't going away and it's the main way people show their frustration about a situation – or endorse it. It's their mouthpiece. If businesses can harness this trend, they'll sooner know if there is a problem with engagement and they'll sooner be able to prepare their people for change.
In the 2016 US election, Trump's messages were succinct and clearly got through to his target audience. People liked them because the voice was authentic, and the messages were simple – sometimes to the point of being brutal. This is something we can all learn from.
Our own businesses are based on presenting data which can reveal awkward truths about engagement – but truths they are, and how an organization works with what it knows to be true will always reveal how effectively it listens to its people, and translates what it hears into meaningful change.
It's all about encouraging the conversation, regardless of demographics. You have to show that you're actually listening to people, rather than just responding to them in a robotic way. You can't generalize about baby-boomers, Millennials or Generation X. Don't assume you know what's best for them all – check in with them constantly, play back what they tell you, and tailor your messaging accordingly. For example, most people today would probably rather play a 30-second VODcast than plough through a three-page newsletter. They don't have time to do anything else!
Through the interviews in The People Business, we've discovered that in the drive to modernize Internal Communications – a movement to which all our experts are committed – you can't isolate any particular aspect. It's a two-way process. All parts of the engine have to be working together: listening, talking and sharing are your most reliable synchronization tools. If you consult effectively with your employee base, everyone feels valued. And they will participate in the constant evolution of the business.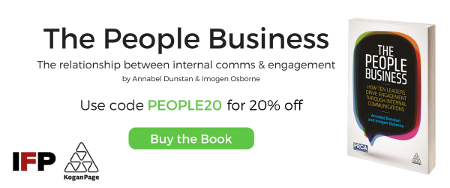 IFP Expert: Annabel Dunstan is the Founder and CEO of Question & Retain, a company dedicated to helping businesses grow through attracting and growing talented people and winning great clients. Their PulseCheck software allows businesses to measure employee expeience and client satisfaction. Some of their clients include Suzuki GB, PizzaExpress and Federation of Master Builders.
Access the latest business knowledge in HR
Get Access
Comments
Join the conversation...